Ready to warm up? We're not just talking about the start of your workout—with temperatures dropping, we've got blue skies and sunshine on the brain.
XPASS and Princess Cruises® are teaming up to make 2023 your happiest and healthiest year ever. For every dollar you spend on an XPASS Annual Plan, you'll receive that same amount back as a credit toward a vacation with Princess Cruises.
Pure Barre, CycleBar, Club Pilates, Rumble…just to name a few.
You'll get a full year of classes at the best boutique fitness studios nationwide—and your year of workouts pays for itself the moment you set sail.
Sound good? We think so, too. We'll walk you through how it works:
Step 1. Choose your Annual XPASS Plan
Click the toggle button to view Annual Plans, then choose the one that's right for you to save on a year's worth of workout classes and commit to a healthier you.

SAVINGS TIP: The Gold+ and Ruby+ plans offer the most bang for your buck—these plans receive a free XPLUS subscription so you can stream your favorite workouts from home.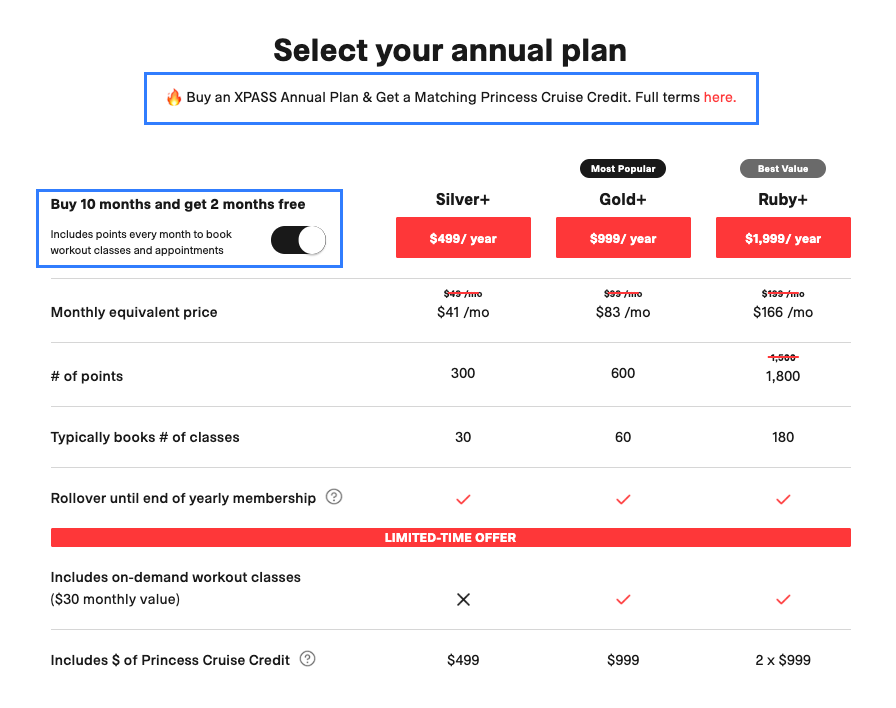 Step 2. Complete your Cruise Credit Form
After checkout, you'll be prompted to fill out a form that connects you with a representative from Princess Cruises who will finalize your credit. No spam or solicitation, we promise!
Step 3. Chat with a Cruise Representative
Keep an eye on your phone! You can expect a call from Princess Cruises within seven days of purchasing your XPASS Annual Plan. Whatever you spent on your XPASS Annual Plan will be fully returned to you as a credit toward a vacation at sea.
Step 4. Find your Paradise
Your vacation awaits! Book a cruise to one (or more!) of Princess Cruise's 330 exotic destinations, then pack your bags and get ready to set sail.
Step 5. Find your Workouts
Once you've purchased your Annual XPASS Plan, you'll be able to use points book classes at your favorite fitness studios that same day. Log into XPASS online (click Log In in the top right corner) or download the XPASS App to find studios near you, then redeem your points for the best boutique fitness classes. With 10 different brands and 2,000+ studios nationwide, there's a class for everyone and a better you waiting on the other side of your workout.