Welcome to the Season 2 Healthy Recipes Cookbook by XPASS. Once you have tried Season 1 of our cookbook, you can find more inspiration and recipes here.
Shrimp Fried Rice
Ingredients:
Shrimp
Rice
Frozen peas & carrots
Avocado Oil
Soy Sauce
Oyster Sauce
Garlic Powder
Onion Powder
2 Eggs
Sriracha
Scallions
Directions:
Peel and devein 10-15 medium-sized shrimp. Cut each in half widthwise.
Remove 1 cup of leftover cooked white rice from the refrigerator and let it come to room temperature (1-day-old rice works best).
In a pan over medium-high heat, separate and toast the rice with 2 tsp of avocado oil.
Defrost 1 cup of frozen peas and carrots and add them into the pan to heat up with the rice. Add any additional vegetables as desired.
Create a space in the pan and add in the shrimp to cook quickly before mixing it in with the rice and vegetables.
Season with 1 ½ tbsp of soy sauce, 2 tsp of oyster sauce, 1 tsp of garlic powder, and 1 tsp of onion powder. Adjust seasoning as desired and add more oil and soy sauce if the mixture is too dry.
Toss together and let heat up in the pan.
Crack and whisk 1-2 eggs and cook in a separate pan or if the pan is large enough make a space in the rice to cook the eggs.
Scramble the eggs and mix them into the fried rice.
Garnish with a sriracha drizzle, and chopped scallions.
Blackened Salmon

Ingredients:
10 oz salmon
½ tbsp paprika
1 tsp onion powder
1 tsp garlic powder
¼ tsp cayenne pepper
Salt and pepper to taste
Directions:
Brush salmon with olive oil
Mix all dry ingredients and season the salmon
Air fry at 390F for 12 min
Mediterranean Pasta Salad
Ingredients:
Salad:
2 cups cooked rotini pasta
½ cup cucumber, chopped
½ cup red onion, diced
½ cup grape tomato, chopped
¼ cup fresh parsley
¼ cup feta cheese
½ cup kalamata olives (if desired)
Dressing:
1/3 cup extra virgin olive oil
¼ cup red wine vinegar
1 tablespoon maple syrup
1 tablespoon lemon juice
2 teaspoon Dijon mustard
1 teaspoon minced garlic
½ teaspoon salt
¼ teaspoon pepper
1 teaspoon dried oregano
Directions:
Cook the pasta in salted water according to package instructions. Drain and rinse with cold water until no longer hot.
In a large bowl, add pasta, cucumber, tomato, red onion, parsley, and feta cheese then drizzle with dressing.
Toss until all the ingredients are evenly coated with the dressing. Garnish with extra feta and serve immediately.
Overnight Oats
Ingredients:
½ cup Rolled Oats
120g Almond Milk
1 small sachet Stevia (any sweetener)
1 Tbsp Chia Seeds
30 g Fresh Blueberry
10 g Sliced Almonds
Mint Leaves (garnishing)
Directions:
Combine the oats, almond milk, stevia & chia seeds in one glass or mason jar then set aside.
Let it sit for a day to fully incorporate.
Garnish with Blueberries, Almonds and Mint leave or you can garnish with anything you like.
Enjoy and eat anywhere you are.
Chicken Sandwich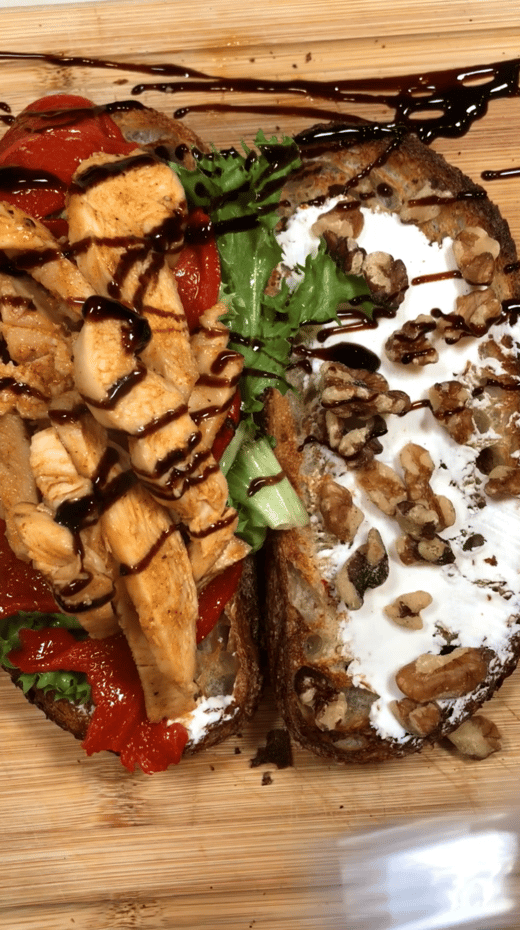 Ingredients:
1 Red Bell Pepper
1 Chicken Breast
1 tbsp garlic powder
1 tbsp onion powder
1tbsp olive oil
2 tsp honey
Optional: Smoked Paprika
Walnuts
1 tbsp of Goat Cheese
Bread
Lettuce
Balsamic Glaze
Directions:
Roast 1 red bell pepper over an open flame or under the broiler to blister. Cover in aluminum foil once cooked, then peel and slice.
Slice 1 chicken breast in half to create thinner portions. Season with salt, pepper, 1 tbsp garlic powder, 1 tbsp onion powder, 1 tbsp olive oil, and 2 tsp honey. Add smoked paprika if desired.
Cover and bake at 430 F until 165 F internal temperature (approx 20 mins).
Toast a handful of walnuts for 8 minutes to add a rich smoky flavor.
Slice 2 pieces of sourdough bread, lightly oil, and toast in a pan.
Add 1 tbsp of goat cheese to both sides of the bread, 3 slices of endive lettuce, 2 slices of roasted pepper, a handful of crushed toasted walnuts, and a drizzle of balsamic glaze.
Slice and serve.
Quinoa Breakfast Bowl
Ingredients:
¼ cup quinoa
½ cup water
Olive oil
1 egg
Paprika, garlic powder, black pepper - to taste
½ cup cherry tomatoes
1 cup spinach
Directions:
In a bowl, combine quinoa and water. Cook for about 4 minutes in the microwave (until quinoa is cooked and water is absorbed).
Heat olive oil in a pan on medium heat. Crack an egg into pan and top with spices. Cover until egg is cooked to preference.
Set egg aside and add quinoa and veggies into the pan. Saute for about 3 minutes until veggies are tender.
Combine in a bowl and enjoy!
Avacado Egg Salad
Ingredients:
2 large avocados, diced
2 hard-boiled eggs, diced or grated
1 tbsp red onion, finely chopped
1 tbsp dill, chopped
1 dill pickle, diced
1 tbsp dill pickle juice
2 tbsp spicy mustard
1 tsp salt
½ tsp pepper
Directions:
In a small bowl, mash ½ of your avocado.
Add dill pickle juice, spicy mustard, salt, and pepper, and stir to combine.
Gently fold in your remaining avocado, grated egg, red onion, dill, and dill pickle.
Chicken Fajitas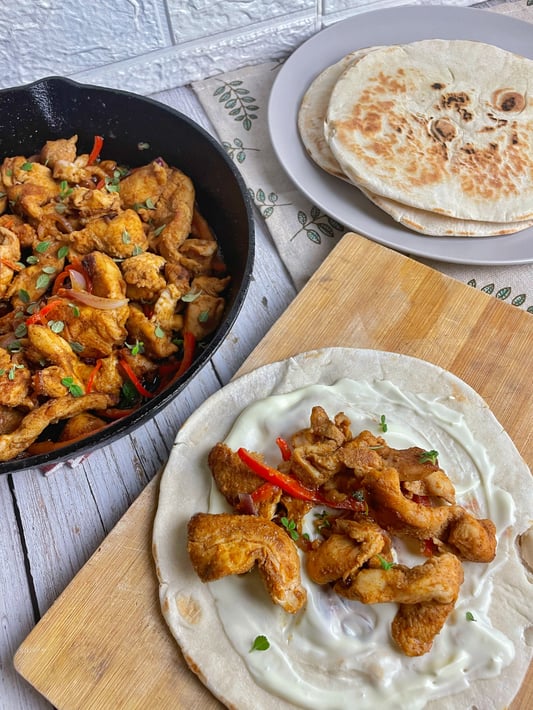 Ingredients:
5g Paprika
5g Cumin
2.5g Onion Powder
1g Garlic Powder
Oregano
Salt
1 Chicken Breast
1pc Red Onion
1 tbsp Olive Oil
Tortilla Wrap
1pc Bell Pepper
Lemon
Sour Cream
Directions:
In a bowl, combine your paprika, cumin, onion powder, garlic powder, salt, pepper, and oregano.
Season your chicken strips with the spices and herbs that you combined and marinate for at least 30 mins.
In a skillet, add your olive oil then saute your red onion.
Add your marinated chicken and let it cook.
Add your bell pepper.
You can serve this with pita bread & sour cream.
Drizzle some lemon juice to fully enjoy.
Air Fryer Potatoes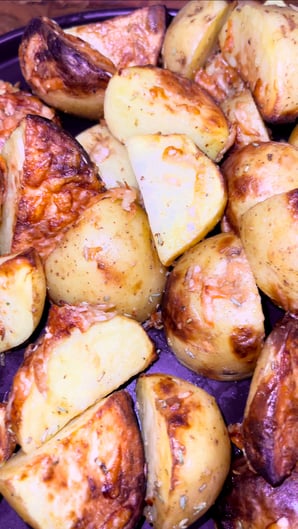 Ingredients:
Yukon gold potatoes
2 parts olive oil, 1 part dijon mustard
Fresh garlic
Grated parmesan
Salt & Pepper
Rosemary (optional)
Directions:
Soak potatoes in cold water
Toss all ingredients together in a bowl
Add to the air fryer at 400F for 20 min
Creamy Penne Pasta
Ingredients:
1 Chicken Breast
Garlic Powder
Onion Powder
Salt/Pepper
Italian Seasoning
Lemon Juice
2 cups of penne pasta
1 white onion, diced
1 ½ tbsp tomato paste
⅔ cup of milk
Spinach
Grated Parmesan
Directions:
Butterfly 1 chicken breast and pound thin. Season with garlic powder, onion powder, salt, pepper, and Italian seasoning.
Saute the chicken in a pan on medium-high heat, deglazing with lemon juice. Cook until 165 F internal, cover until served.
Add 2 cups of penne pasta to salted boiling water and cook until al dente (approx 12 min)
In the same pan as you cooked the chicken, saute ⅔ cup of diced white onion until translucent.
Add in 1 ½ tbsp of tomato paste, ½ cup of pasta water, and ⅔ cup of milk or cream. Mix together to form a sauce.
Cook a handful of spinach in the sauce until wilted, then add in your pasta with another ¼ - ½ cup of pasta water to thin out the sauce if desired.
Season to desired taste with grated parmesan, salt, pepper, and Italian seasoning or fresh herbs.
Serve with sliced chicken breast and garnish with grated parmesan.
GF Strawberry Crumble Bars
Ingredients:
2 cups strawberries (fresh or frozen)
2 tbsp chia seeds
3/4 cup pitted dates
1 cup almond flour
1/2 cup unsweetened shredded coconut
1/4 cup coconut oil, melted
3 tbsp almond butter
2 tsp cinnamon
1 cup old-fashioned oats
Directions:
Preheat the oven to 350 and line an 8 x 8 square pan with parchment paper.
Soak the dates in hot water to soften. Microwave the strawberries until they get hot and release their liquid. Stir in chia seeds and let sit to thicken. Squeeze out excess water from dates.
Process together the dates, almond flour, coconut, coconut oil, almond butter, and cinnamon until broken down. Add the oats and process on low until mixed together.
Reserve 1 packed cup of the crust mixture. Spread the rest of the mixture (about 2 cups) onto the prepared pan and press down firmly, covering the base. Add the strawberry chia jam and spread it out over the crust. Sprinkle the rest of the crust mixture all over the strawberry layer and gently press down.
Bake for 25 minutes, cool completely, then cut into bars. Enjoy!
Green Smoothie
Ingredients:
4pcs Green Apples
2 sachet Stevia (optional)
1pc Cucumber
50g Spinach
Directions:
Cut your apple into slices and make sure to remove the seeds.
For the cucumber, peel the skin and remove the seeds then cut into slices.
In a blender, combine your apple, cucumber, and spinach. You can add stevia for added sweetness or honey.
Additional Ice is optional if you want a cool drink.
Lemon Pepper Chicken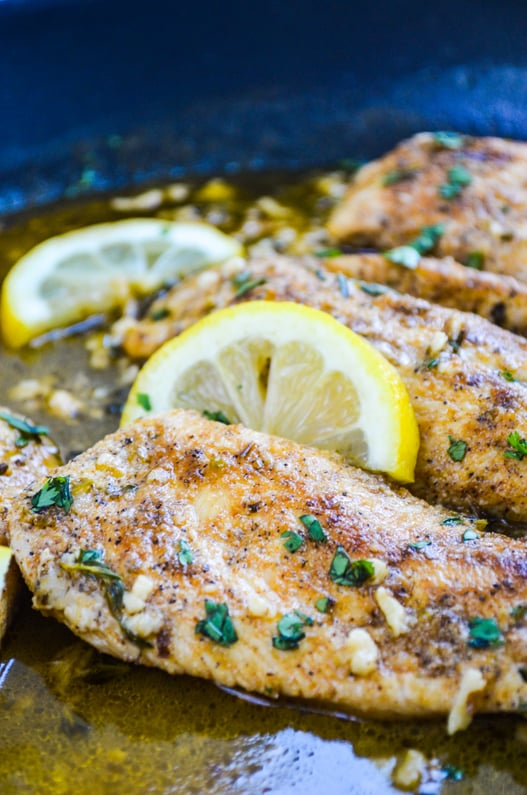 Ingredients:
2 chicken breast
1 teaspoon sea salt
½ teaspoon lemon pepper seasoning
½ teaspoon ground pepper
½ teaspoon onion powder
½ teaspoon paprika
½ teaspoon dried oregano
2 tablespoons olive oil
2 tablespoons unsalted butter
1 teaspoon fresh thyme
1 teaspoon garlic, grated or minced
¼ cup chicken stock
Juice of one lemon
Directions:
Carefully filet the chicken breast into two thinner pieces or use thin-cut chicken breast. Pound or use a rolling pin to make the chicken breast pieces even.
Combine salt, pepper, onion powder, paprika, lemon pepper seasoning, and paprika in a bowl. Drizzle the chicken breasts with a little bit of olive oil and sprinkle the spice blend on both sides of the chicken until fully coated.
In a large skillet, heat 1-2 tablespoons of olive oil and sear the chicken on each side until golden brown for about 3-5 minutes.
In the same skillet, add butter, garlic, and thyme and saute for about one minute. Then add lemon juice and chicken stock. Mix it all together, allow the chicken breasts to simmer in the sauce for about 3-5 minutes, and spoon the sauce over the top until the chicken is cooked through. Taste the sauce and add salt if needed. Let it rest for 10 minutes and enjoy.
Chicken Quesadilla

Ingredients:
4-6 Boneless, skinless chicken thighs
1 tsp old El Paso taco seasoning
1 tsp black pepper
1/2 tsp sazon Goya seasoning
Fat-free Mexican cheese
Flour tortillas
1 tbsp of smart balance butter
Jalapeños (optional)
Low-fat taco sauce (optional)
Directions:
Begin by removing as much fat as you can from your chicken thighs.
Add all of your seasonings to your chicken and toss around until well incorporated.
Add your butter to a pan over medium/high heat, once melted add and cook your chicken for 8 minutes, flipping halfway through.
Once cooked, remove your chicken from the pan and dice as small as you can get it.
To your same pan over low/medium heat add in your flour tortilla. You can immediately add a handful of your cheese and your cooked chicken on top.
Once you see your cheese is melting you can flip your tortilla and press down. After about 30 seconds, remove your quesadilla and use a knife or pizza cutter to slice. Enjoy!
Steak & Eggs
Ingredients:
6 oz NY Strip Steak
Yellow Onion
Potatoes
Salt
Pepper
Garlic powder
Onion powder
Italian seasoning
2 eggs
Directions:
Dry brine 6oz NY Strip steak by salting generously and letting it refrigerate uncovered for 2+ hours. Remove before cooking and let it get to room temperature.
Thinly slice ½ yellow onion and saute on low heat until caramelized.
While the onions are sauteing, roast a handful of small round potatoes until fork tender.
Set onions aside and increase heat to high to add a firm sear to the steak. Cook steak to desired internal temperature and set aside to rest.
Let the roasted potatoes cool, then smash them gently to flatten and crisp up in the pan used to cook the steak.
Once crispy all around, toss with salt, pepper, garlic powder, onion powder, Italian seasoning, and sauteed onion seasoning to taste.
Cook 2 eggs any style, seasoning lightly with salt and pepper.
Serve sliced steak, 2 eggs, and potatoes together.
Raspberry Lemonade Smoothie
Ingredients:
1 cup raspberries
½ cup frozen cauliflower rice
A few ice cubes
1 cup unsweetened almond milk (or coconut water)
¼ cup plain greek yogurt
Juice from 1 lemon
Directions:
Blend & enjoy!
Protein Chocolate Chip Cookie Dough Nice Cream
Ingredients:
For the cookie dough:
1/2 can chickpeas (garbanzo beans), drained & rinsed
1/4 cup peanut butter (or your favorite nut/seed butter)
1/3 cup dates, soaked in hot water for 5 minutes
2 tbsp mini chocolate chips
For the nice cream:
2 barely ripe frozen bananas
1 serving vanilla protein powder
2 tsp vanilla extract
1/4 cup nut milk
1 tbsp mini chocolate chips
Directions:
In a food processor, blend all of the cookie dough ingredients, except for chocolate chips, together until smooth. If the dough is warm, let cool, then mix in the chocolate chips. Roll into small balls and place in the freezer.
Blend the frozen bananas, protein, vanilla, and nut milk together. Mix in the chocolate chips and cookie dough balls.
Enjoy!
Strawberry Spinach
Summer Salad
Ingredients:
Salad:
2 cups fresh spinach
1 cup strawberries, sliced
1/2 small red onion, thinly sliced
1/4 cup candied pecans
1/4 cup feta cheese
Strawberry Vinaigrette Dressing:
1 cup strawberries (5 large strawberries)
1 tablespoon honey
2 tablespoons apple cider vinegar
1 tablespoon lime juice
1/4 teaspoon salt
1/4 cup olive oil
Directions:
Blend the dressing
Toss & enjoy
Breakfast Smoothie Bowl
Ingredients:
⅔ cup frozen blueberries
½ cup frozen bananas
⅔ cup frozen strawberries
1 ½ cup Vanilla Greek yogurt
1 tbsp Agave Nectar
3 strawberries
½ banana
Nuts
Coconut chips
Nutella or peanut butter
Directions:
Blend ⅔ cup of frozen blueberries, ½ cup of frozen banana, ⅔ cup of frozen strawberries, 1 ½ cup of fat-free vanilla greek yogurt, and 1 tbsp of agave nectar (add a little water to thin out if needed).
Thinly slice 3 strawberries and ½ a banana.
Crush a handful of cashews or walnuts.
Top the smoothie bowl with the sliced fruit, coconut chips, crushed nuts, and a drizzle of Nutella or peanut butter.
Oatmeal Chocolate Chip Pancakes
Ingredients:
1 cup rolled oats
¾ cup nut milk
½ a ripe banana
1 egg
2 tbsp maple syrup
1 tbsp melted coconut oil
1 ¼ tsp baking powder
½ tsp cinnamon
¼ tsp salt
About a 1/4 cup of chocolate chips to add to your pancakes
Maple syrup for topping
Directions:
In a blender, add your oats, nut milk, banana, egg, maple syrup, coconut oil, baking powder, cinnamon, and salt. Blend on medium for 1 minute or until the mixture is well combined. If the mixture is too thick, add more nut milk to thin to desired consistency.
Heat 2 tsp coconut oil in a pan over medium heat. When the pan is hot, add ¼ cup of mixture and sprinkle with chocolate chips. Cook for about 2 minutes. Flip once you see a few large bubbles on the surface. Cook for 1 more minute. Repeat with the remaining mixture.
Serve with maple syrup and more chocolate chips.
Enjoy!
Taquitos
Ingredients:
Stuffing:
5-6 tortillas of choice (depending on size)
1 Block extra firm tofu (or protein of choice)
1/2 can beans of choice
1/3 red onion, diced
1/2 cup enchilada sauce
1-2 tsp taco seasoning
1 head of romaine lettuce
1/3 red onion, diced
Toppings:
Pico de Gallo
Avocado or guacamole
Jarred Jalapeños
Cilantro Lime Aioli:
1/4 cup plain greek or coconut yogurt (for more mayonnaise)
1/4 cup avocado oil mayonnaise
1 lime, juiced
2 tbsp cilantro, finely chopped
1 tsp garlic powder
Sea salt, to taste
Directions:
Preheat the oven to 425F (You can also bake these in the air fryer).
If using tofu, using a cheese grater, grate the block of tofu, creating shreds.
Drizzle a pan with olive oil, over medium heat, and add the onion and tofu shreds. Cook for 10 minutes or so, until the tofu, begins to brown. Then add in the taco seasoning and enchilada sauce. Cook a few more minutes.
Warm up the tortillas. Add some of the beans to each one. Then add some of the protein to each. Roll the tortillas up into taquitos.
Add the taquitos to a square baking dish, packing them in tightly so they hold their form. Spray them with spray oil, then bake for 15-20 minutes, until golden.
To make the sauce: Whisk everything together until smooth. Taste & adjust as desired.
Top the taquitos with your favorite toppings - chopped romaine, onion, jalapeños, & salsa, or pico de Gallo. Enjoy!