Welcome to the Season 1 Healthy Recipes Cookbook by XPASS. Here you will find new recipes and old favorites that are perfect for sharing with your friends! 24 different dishes, all created specifically for our XPASS fam - it's an insane feast of flavor- both fresh AND healthy?! Check out these amazing options:

Strawberry Matcha Chia Pudding
Ingredients:
2 cups nut milk
1/2 cup chia seeds
2 tbsp maple syrup
2 tsp vanilla
2-3 strawberries + more for garnish
1 tsp matcha
Directions:
Strawberry Chia Pudding:
To a blender, add half of each of the following ingredients: nut milk, chia seeds, maple syrup, and vanilla.
Add your strawberries and blend on med-high for 1 min.
Pour into a glass and refrigerate for at least 4 hours.
Matcha Chia Pudding:
Follow the same first step as above.
Add your match and blend on med-high for 1 min.
Pour into a glass and refrigerate for at least 4 hours.
To assemble, add your puddings in two layers in a glass and garnish with strawberries.
Enjoy!
Chicken Ropa Vieja Tacos
Ingredients:
1 red pepper
1 yellow onion
3 cloves of garlic
2 chicken breasts
⅓ cup Adobo
1 ½ Garlic powder
1 ½ Onion powder
2 ½ Smoked paprika
Chili flakes
2 cups of chicken stock
1 cup of water
Tortilla or Lettuce
Cilantro
Pickled red onion
Directions:
Thinly slice 1 red pepper, 1 medium-sized yellow onion, and 3 cloves of garlic. Add to a large pot.
Add 2 chicken breasts to the pot along with 1 tbsp of tomato paste.
Add the following seasoning to the pot: 1/3 cup adobo, 1 ½ tbsp garlic powder, 1 ½ tbsp onion powder, 2 ½ tbsp smoked paprika, a pinch of dried chili flakes, optionally add a few dashes of hot sauce for more heat.
Add 2 cups of chicken or vegetable stock and 1 cup of water to completely submerge the chicken and vegetables.
Let simmer covered on low-med heat for 1-2 hours.
Remove chicken, and leave the pot uncovered on medium heat to slightly cook down liquid while shredding your chicken. Add shredded chicken back to the pot and turn off the heat.
Serve in a tortilla or lettuce wrap topped with fresh cilantro and pickled red onion.
Almond Butter Berry Bark

Ingredients:
16 ounces greek yogurt
¼ cup honey
2 tablespoons almond butter
⅓ cup strawberries, sliced
⅓ cup blueberries
Granola, for garnish
Directions:
Line a baking sheet with parchment paper and set it aside.
In a mixing bowl combine yogurt and honey. Whisk until thoroughly combined.
Transfer the yogurt mixture to a prepared baking sheet and spread it around to an even thickness.
Add almond butter and swirl it around using a toothpick. Top with berries and garnish with granola.
Freeze overnight or until firm.
Cut into pieces and serve.
Store in the freezer.
Salmon Bites



Ingredients:
2 lbs of salmon cut into bite-sized pieces
1/2 tsp cayenne pepper
1/2 tsp black pepper
1 tsp old bays seasoning
1 tsp garlic and herb seasoning
1 tsp smoked paprika
2 tbsp smart balance butter, divided
2 tsp parsley (optional)
Sesame seeds (optional)
Directions:
Remove the skin from the salmon, before slicing and cutting it into bite-sized chunks.
Add all of your seasonings into a mixing bowl and coat and toss the salmon in the seasoning blend
Melt 1 1/2 tbsp of smart balance butter over medium/high heat and place the salmon bites into the pan and sear for 3-4 minutes on each side. Add 1/2 tbsp of butter halfway through and once melted, use to baste salmon and sprinkle with parsley.
Remove the salmon from the heat and serve over rice or potatoes alongside your favorite veggies, ENJOY!
Gluten-Free Raspberry Protein Donuts
Ingredients:
For the donuts:
3 very ripe mashed bananas
3 tbsp almond butter
2 tbsp coconut oil, melted
1 tsp pure vanilla
2 eggs
1 1/2 cups almond flour
1 serving vanilla protein powder
1 tsp baking soda
1 tsp baking powder
3/4 cup raspberries
For the icing:
½ cup cream cheese, warmed
1 ½ tbsp raw honey or maple syrup
Directions:
Preheat the oven to 350 degrees F. Lightly grease a silicone donut pan.
Blend the bananas, almond butter, coconut oil, vanilla, and eggs until smooth. Blend in the almond flour, vanilla protein powder, baking soda, and baking powder. Stir in the raspberries.
Distribute the batter evenly into the 12 donut molds and bake for 22 minutes, or until a toothpick comes out clean. While baking, mix the cream cheese and honey.
Cool completely before removing it from the pan. Spread the icing on the donuts. Enjoy!
Chickpea Salad Sandwich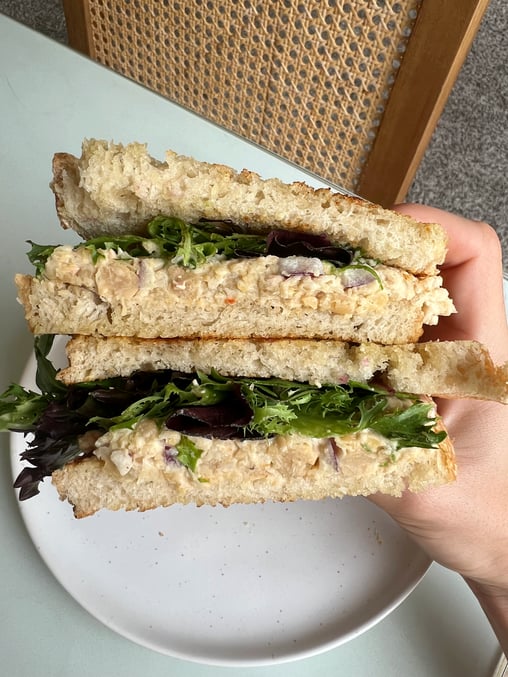 Ingredients:
4 slices sourdough bread (can swap for wrap or lettuce for lettuce cups)
Mixed greens
1 can chickpeas
2 tbsp mayo
1 tsp dijon mustard
¼ cup diced red onion
Spices to taste - salt, pepper, garlic powder, red pepper flakes
Directions:
Add chickpeas to a bowl and mash about half of them with a fork.
Add mayo, dijon, red onion, and spices. Mix well.
Toast bread and build your sandwich, topping the bread with chickpea mixture and greens.
Serve & enjoy!
Blueberry Frozen Yogurt Pops

Ingredients:
3 cups of Vanilla Greek Yogurt
1 ½ cups of frozen blueberries
2 tbsp of agave
Directions:
Combine 3 cups of fat-free vanilla greek yogurt, 1 ½ cups of frozen blueberries, and 2 tbsp light agave nectar in a blender.
Blend until smoothie consistency.
Pour mixture into ice pop molds and freeze overnight. If you do not have ice pop molds, you can use an ice tray, small disposable cups, or muffin tins with popsicle sticks as an alternative.
Once fully frozen, loosen by running under warm water for 30-60sec.
Rainbow/Mango Quinoa Crunch Salad
Ingredients:
1 cup shaved Brussel sprouts
3/4 cup shaved purple cabbage
1/2 cup shredded carrots
1/2 cup diced red bell pepper
1/2 cup diced mango
1/2 cup cooked quinoa

1/4 cup diced green onion
1/4 cup chopped basil
3 tbsp olive oil
2 tbsp lemon juice
1 tbsp tahini
1 1/2 tsp red wine vinegar
1 tsp honey
1/4 tsp salt
a few grinds of pepper
Directions:
To a medium-sized bowl, add your Brussel sprouts, cabbage, carrots, red bell pepper, mango, quinoa, green onion, and basil.
In a small bowl or glass, whisk together your dressing ingredients: olive oil, lemon, tahini, vinegar, honey, salt, and pepper.
Drizzle your dressing over the salad mixture and toss well to combine.
Serve and enjoy!
Yogurt Bowl

Ingredients
1 cup of yogurt
Fresh sliced strawberry
Toasted coconut
Chia seeds
Walnuts
Dash of cinnamon
Drizzle of honey
Directions
Add yogurt to your bowl as the base
Add sliced strawberries (or any fruit of your choice)
Top with nuts, seeds, and something sweet like honey!
Turkey Burger

Ingredients
16oz Lean Ground Turkey
Mustard
1tbsp lemon juice
1-2 tbsp of garlic powder & onion powder
¼ cup Italian seasoning
2 tsp kosher salt
Worcestershire sauce
⅓ cup of bread crumbs
1 egg
Burger buns
Lettuce
Red onion
Tomatoes
1 ½ tsp of mayonnaise
Horseradish
Capers
Directions:
Combine 16oz lean ground Turkey with ¼ cup mustard, 1tbsp lemon juice, 1-2 tbsp of garlic powder, and onion powder. ¼ cup Italian seasoning, 2 tsp kosher salt, and a few dashes of Worcestershire sauce. Mix then add ⅓ cup of bread crumbs and 1 egg. Mix again until fully combined.
Let the mixture sit in the refrigerator for at least 20 minutes to allow flavors to truly blend.
Shape ground Turkey into 3-4oz Patties and place on a tray lined with wax paper or parchment paper.
Let patties slightly harden in the freezer for 10 minutes or refrigerator for 30-40 minutes.
Cook patties on medium-high heat on the grill or in a lightly oiled pan. Sear on both sides and cover. If cooking in a pan, add a little lemon juice or water before covering to keep them moist. Cook until 165° F internal.
Toast brioche buns and chop lettuce, red onion, tomatoes, and any other toppings of your choosing.
Stir together 1 ½ tbsp light mayonnaise, 1 tbsp mustard, 1 tsp horseradish, a few capers, and 1 tsp of lemon juice to create a sauce for your Turkey burger. This sauce is citrusy and slightly bitter and combines well with the flavors in the patty. Feel free to substitute a different sauce of your choosing.
Watermelon Lime Gummies

Ingredients:
2-2.5 cups watermelon (enough to make 1 1/4 cups of watermelon juice)
1/4 cup fresh lime juice* (approx 2 limes)
2 tbsp gelatin
Directions
Blend the watermelon into juice. Whisk in the lime juice and gelatin.
Heat the mixture in the microwave or stovetop until it is just warmer than body temperature.
Pour the mixture into molds, ice cube trays, or a glass dish and refrigerate for at least an hour.
Use a knife or flexible spoon to remove jigglers from molds and enjoy! (Placing the freezer helps remove the gummies. Then thaw in the fridge.)
Egg & Mushroom Toast
Ingredients:
2 slices Olive Ciabatta
1 Tbsp Olive Oil
3g Baby Arugula
1pc Egg
5g Shiitake Mushroom
5g King Oyster Mushroom
5g Enoki Mushroom
5g Shimeji Mushroom
¼ tsp Garlic Powder
Salt to Taste
Directions:
In a hot skillet, place a tablespoon of Olive oil then toast your Olive Ciabatta on both sides to avoid soggy toast and set aside.
On a pan, fry your egg based on your desired doneness then set it aside.
Sautee your mixed mushroom and season it with garlic powder & salt.
Place your Arugula on top of your first toast then add your egg on top.
Stack your sauteed mushrooms.
Garnish with Parsley oil & Truffle Parmesan (optional)
Place the other half of your bread on top to finish your post-workout sandwich.
Sweet Beet Juice
Ingredients:
2 large beets, peeled
3 medium carrots, peeled
1 medium orange, peeled and quartered
1 medium Honeycrisp apple, cut into wedges
1 1-inch fresh ginger, peeled
2 cups water
Directions:
Add all the ingredients to a blender. Blend for 60 seconds until thoroughly blended.
Place a fine-mesh strainer over a bowl and pour the blended mixture through the strainer. Use a large wooden spoon or spatula to press out the juice as much as possible. Discard or repurpose the pulp.
Add ice cubes to a glass and enjoy.
Superfood Cookie Dough Smoothie

Ingredients:
1 banana
1 cup frozen cauliflower rice
1 cup unsweetened almond milk
1 tbsp almond or cashew butter
1 scoop of vanilla protein powder
3-5 ice cubes
Dash of cinnamon
2 tbsp cacao nibs
Directions:
Blend, pour & enjoy!
Kale Waldorf Salad
Ingredients
Kale
Tomato
Avocado
Anjou Pear
Red Onion
Goat Cheese
1 tbsp of mayonnaise
2 tsp of balsamic vinegar
1 tsp of honey
1 tsp of brown mustard
Salt
Pepper
Dried cranberries
Directions:
Thoroughly wash kale and roughly chop.
Dice fresh tomato and avocado, thinly slice anjou pear and red onion, and crumble the goat cheese.
Combine 1 tbsp light mayo, 2 tsp balsamic vinegar, 1 tsp honey, 1 tsp brown mustard, salt, and pepper for a creamy balsamic vinaigrette.
Mix kale, diced tomatoes, and dried cranberries and toss with vinaigrette.
Plate salad with diced avocado, sliced pear, sliced red onion, crumbled goat cheese, and chopped walnuts.
No-Bake Protein Cookies

Ingredients:
1 1/2 cups oats
1/3 cup vanilla protein powder
1/2 cup cashew butter
1/4 cup maple syrup
1 tbsp + 2 tsp melted coconut oil
1 tsp salt
1/4 cup chocolate chips
2 tbsp coconut shavings
Directions:
In a medium-sized bowl, combine your oats, protein powder, cashew butter, maple syrup, salt, and 1 tbsp coconut oil. Mix until well combined.
Roll into cookies and place in the freezer for 3-5 minutes to firm up.
Meanwhile, add your remaining coconut oil and chocolate chips to a saucepan over low heat. Stir to combine while the mixture melts. Once melted, remove from heat. (You can also skip the stovetop and do this step in a microwave!)
Remove your cookies from the freezer and drizzle with chocolate sauce and garnish with coconut shavings.
Place the cookies back in the freezer for another 3-5 minutes.
Now it's time to ENJOY!
Strawberry Mango Smoothie Bowl
Ingredients:
1 cup frozen strawberries
1 cup frozen mango
1 cup frozen mango
½ cup cauliflower
1 avocado
½ cup non-dairy milk
Tips for the perfect smoothie bowl:
Always use frozen fruits and vegetables
Gradually add liquid as needed. Less is better
Load up on your favorite toppings
Make it pretty
Seafood & Tomato Pasta
Ingredients:
100g Spaghetti

2 tbsp Bottled Tuyo

1 tbsp Grated Parmesan

1 tbsp Garlic

1 tsp Garlic Powder

1 tbsp Olive Oil

1 tsp Olives

1.5 tsp Lemon Juice

Pepper to taste

Salt to taste
Directions:
In a pot, boil some water and add salt.

Once boiling, add your pasta and let it cook until it is barely al dente then set aside.

In a pan, add your olive oil then sauté your garlic then add some of your tuyo.

Add your pasta and ¼ cup of Pasta water.

Add your olives and parmesan cheese.

Turn off your fire then add your lemon juice then plate.

You can garnish this with parsley and parmesan cheese.
Breakfast Wrap
Ingredients:
1 Sweet potato
Garlic powder
Onion powder
Salt an
Smoked paprika
Turkey bacon
1 tbsp mayonnaise
Hot sauce
2 eggs
Cheese
Spinach
Directions:
Bake 1 sweet potato, and remove skin and cube. Season with garlic powder, onion powder, salt, pepper, and smoked paprika.
Sauté spinach with garlic and oil.
Cook 2 pieces of turkey bacon in a pan.
Combine 1 tbsp low-fat mayo, smoked paprika, and a few dashes of hot sauce to make spicy mayo.
Scramble 2 eggs and cook in a pan, seasoning with salt and pepper, adding 1-2 slices of low-fat cheese if preferred.
Assemble wrap layering spicy mayo, turkey bacon, sauteéd spinach, sweet potato, and egg.
Roll into wrap and toast carefully on both sides in a pan on medium heat.
Slice on a bias and enjoy!
Pesto & Goat Cheese Caprese Avocado Toast

Ingredients:
1 slice of sourdough bread
Olive oil
Avocado
Goat cheese
Pesto
Cherry tomatoes
Balsamic glaze
Directions:
Lightly brush sourdough with olive oil.
Top bread with mashed avocado, goat cheese, and pesto.
Place in an oven or toaster oven on 400F for a few minutes (until bread is golden brown on the bottom). Note: can also toast the bread before topping with ingredients, but I like to do it after so everything is warm!
Top with cherry tomatoes and a big drizzle of balsamic glaze. Enjoy!
Nut Milk

Ingredients:
1 tbsp cashew butter
1 ½ cups water
1 tsp maple syrup (optional)
¼ tsp vanilla (optional)
¼ tsp salt
Directions:
Add all your ingredients to a blender and blend for 60 seconds until well combined.
Notes:
You can use whatever nut butter you have on hand
If you don't have maple syrup, use a sweetener of your choice (I recommend honey or dates)
Add cinnamon for more flavor!
Omelet Bites
Ingredients:
5 Eggs
½ Cup of Milk
Salt & Pepper
White Onion
Jalapeno
Red Bell Pepper
Cheese
Directions:
Whisk together 5 large eggs, ½ cup of milk, and salt & pepper.
Add in 1 cup of shredded cheese of choice and mix again.
Finely dice vegetables of your choosing (video uses white onion, jalapeno, and red bell pepper).
Evenly distribute the egg mixture in a greased muffin tin and mix in diced vegetables without overfilling the tin.
Bake in the oven at 360 F for 15 minutes or until no longer liquid and egg cups are slightly puffed like muffins.
Remove from the oven and sprinkle more cheese on top.
Broil or bake the egg cups to brown the cheese on top.
Let cool before popping out the cups and serving.
Eat once cooled or refrigerate for up to 5 days and microwave before serving.